Envision Festival Co-Founder, Founder & Managing Director of Punta Mona, and Founder of Alegria Village, Stephen Brooks needs no introduction within the conscious community. A pioneer for permaculture, sustainability, and community building, his footprint is astounding and message only continues to spread as the new paradigm continues to shift toward more conscious living.
We sat down with Stephen Brooks ahead of our upcoming Nicaragua Artist Residency, where will he will join us for two weeks following Envision Festival's 10th anniversary, sharing workshops and discussions on community building and more. Here is a sneak peak at what to wealth of knowledge which will be shared once we come together at Maderas Village for 1.5 months beginning March 1.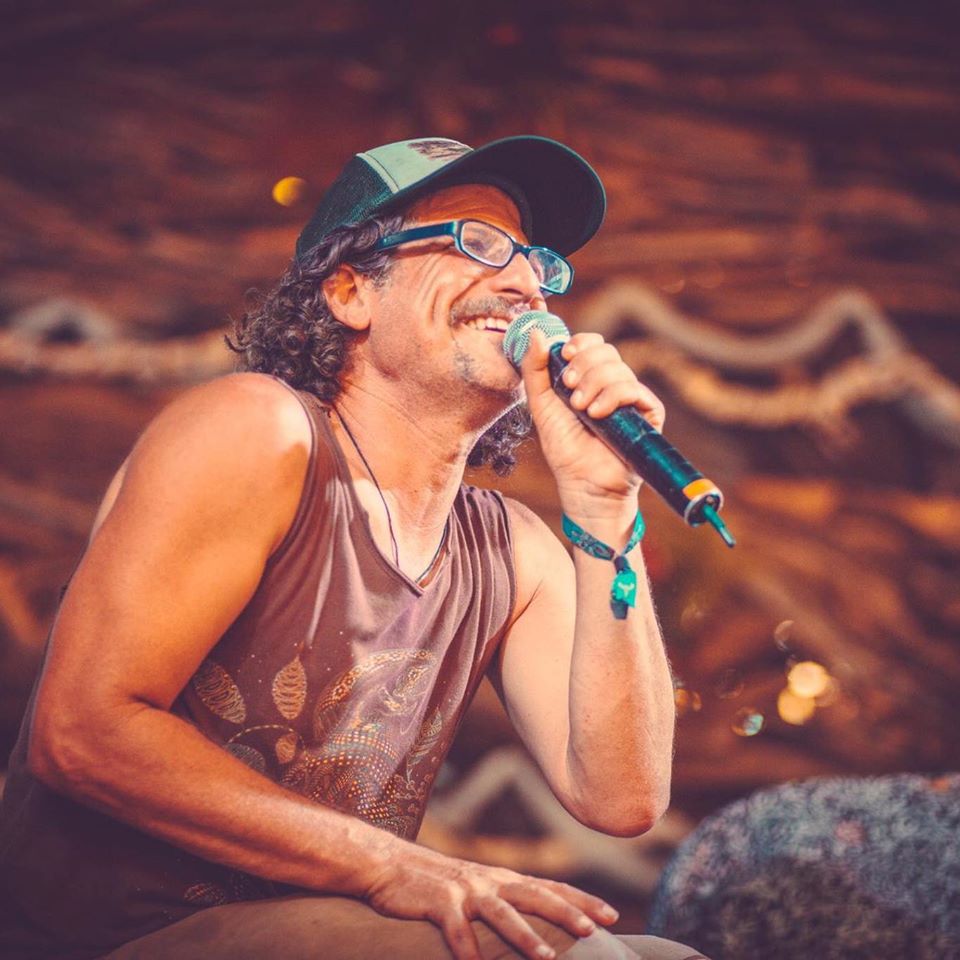 Who is Stephen Brooks?
"I'm someone who feels like I was able to fast forward life many years ahead and I'm trying to assimilate all that information and to macro-redesign.
I'm always asking questions like, "What are our cities and towns going to look like in 50 years? Where is our water going to come from? Where is our food going to come from? What's the commute going to be like from my house to my best friend's house? What would my ideal life situation look like?" And then, "How can I create that?"
I would say that has been my role. It's a difficult role because it requires a lot of patience, especially with state of the world and with bureaucracy. I'm doing my best to push these ideas forward.
This looks like quite a number of projects for me that I'm involved in.
1. Punta Mona is a school, or an "Eco-Versity." It's a training ground for the next generation to re-design the world on both a physical and a spiritual level. We're experimenting radically with green building and agriculture.
2. Envision [Festival] is this mecca. It's a vision of bringing 8,000 people together and asking, "How can we jumpstart as many people as possible to taste how delicious the future could be if we design it with intention?"
3. I live in an Eco Village that I started 10 years ago with my dad. It's made up of 45 families from 22 countries. We have more than 50 kids in a school that the parents co-created. The roads are made from recycled plastic grates and lined with fruit trees. We have incredible gardens – each Wednesday residents get big boxes of organic food delivered to their homes from them. It's not a "hippie commune," it's actually a very high-end community merging permaculture principles with what an ecological neighborhood might look like. A place where your neighbors have shared values and shared dreams.
What's started coming up is, "How can I merge all of these things?" Currently, they all have different structures.
So, I've recently had this vision that I'm calling: 1,001. Re-designing the world 1,001 hectares at a time. I want to start creating a replicable model on 1,001 hectares at a time.
What would that look like? To me, it has a certain criteria:
The land has at least 5-20% native forest for conservation.
30-40% for massive reforestation.
10-15% planting wood and bamboo for future buildings.
30-40% for planting massive amounts of trees: thousands of jackfruit trees, breadfruit trees, cacao, black pepper.
It takes everything to another level.
Who's living there? 1,001 families. Specifically, local farming families who are tending this land, working in the production facilities, and sharing in a cooperative structure.
The next steps would be creating a full-fledged school like at Eco-Villa, as well as an Eco-Versity: an ongoing 4-year university training the next generation of thinkers to be able to replicate this in places all over the world.
Additionally, we would create a site for hosting summits – 5 days a month for 1,000 people.
So, overall, while I do still have the normal day-to-day stuff going on, I would describe myself as a macro-thinker."
What is your purpose?
"My purpose is bridging the future with now.
Many years ago I used to host the TEDx conference at Burning Man. One year, I introduced a man who was talking about automation. Billions of people left the countryside to go live in the cities to work in factories. In the next 20 years, all of those factories are going to be run by computers, and all those people are going to lose their jobs. Which could be complete chaos, mayhem, and war. Or, we can get really prepared. So, how can we get the countryside ready to receive billions of people that are about to return?
Who I am is being a messenger and a bridge to a lot of this. I am on a major mission to keep screaming this vision and also just trying to have fun as I go."
Where do you see the world in 5 years?
"We'll be a lot further along. A lot of these things are happening now, but separately. When I first woke up to a lot of this in 1995, there were no health foods stores or Whole Foods. Now, Walmart is selling organic. So it IS happening.
I believe in 5 years, finances are not going to be an issue. It feels like we're going to have masses of people ready to start working together. Right now, there's a problem with the ego of, "This is this my project. This is your project. Who's going to get the credit? Who's raising the money?" I'm anxious for that to start to crumble and for a lot of this to be happening faster.
Kaypacha, the astrologer, is a good friend of mine. I met with him recently and he said that right now there is a phenomenon happening for first time in 4,300 years. One which is reflecting the crumbling of power: government, corporations, billionaires, etc. I see it happening. The children of the billionaires are drinking ayahuasca, they're going to Momentom, and they're going to Burning Man. They're realizing that their family's wealth isn't going to bring them the happiness that they're seeking.
As long as we keep finding ways for people to start reinvesting their wealth into ways that will totally redesign their legacies, that makes me feel more confident than ever."
What can we do as individuals to move the future forward?
"We need to realize that we matter. Every little thing matters: every bag we bring to the grocery store, everything we buy, every cent we spend is voting for the world that we want.
I feel like people are starting to care. And the more the more people start caring, the more things are going to change."
What does circus mean to you?
"When I was in 5th grade we had to do a report on a famous person, and I did mine on PT Barnum. So, in some ways, what circus brings up to me is the tortured animals, or other backside aspects of the circus.
On the other hand, I've always been someone who enjoys arriving early to festivals – whether it's Burning Man or Envision – because I love being part of the build. I love the roadie vibe of being en route to the circus.
I was on tour at the Grateful Dead, a "Deadhead," which meant I was literally part of that circus. But I love the preparation, and to create this alternative world so that the common everyday people can come and get a taste of how sweet life could be. And that's what the circus does: it takes people out of their norm. I think the more we can take people out of their norm, the better opportunity we have for them to realize things could be different.
Additionally, circus is connected with community. My first taste of this was in the parking lot of the Grateful Dead show in 1988. It changed my life: to taste what it feels like to live in community. What it feels like to be surrounded by people that have similar values, that was revolutionary for me."
What about festival culture propels you to create these experiences for mass amounts of people?
"I want to wake up as many people as possible.
When people have these experiences, they often don't want to go back to the old ways. I also think the combination of plant medicine and festival reality is a really unbelievable combination of "wake up." You wake up to the reality of the cosmic joke of it all. And then you get to go to the festival and actually see it and in real life. It's exciting and it gives me so much hope."
What inspires you and why?
"One of my biggest inspirations was in 2003-2004. I drove to Costa Rica on a caravan of vegetable oil powered buses. It was like a circus literally driving through Central Park. It was freaking epic.
I was really inspired by how it felt to be living that way. Also, we were on the front pages of the newspapers in Mexico City and Honduras and around the world. Through these interviews and this exposure we were reaching millions of people talking about combining quality of life with purpose.
So, I'm constantly trying to find how can I have fun and enjoy, while changing and influencing as many people as possible.
That's why things like Envision or Eclipse Gatherings bring mass amounts of people together. I like to create these events for people; events that truly change them. Where they can say, "Before I went to Punta Mona I was one way, and when I left I was forever changed." Or, "Before I went to Momentom I was one way, and after I left my life was never the same." I want to try and create that as much as possible."
What can people expect from meeting you in residency?
"What they can expect is that they're going get some real outward inspiration.
I find a lot of people in our tribe are so internal and they're doing so much self-work. But I wonder, what are all these enlightened people going to do if they go back to live in their same suburbs? If they go back to live in the same old ways that they've been living in?
We need to recreate the outside, so that we can keep cultivating the inside. We need to re-create the way we're living, where we live, where our food is coming from, etc. If we're still sitting in traffic, still commuting to work in old ways, and still doing jobs that are not radically improving the world – then, we're still part of a system that's destructive.
So, my goal at Momentom is to be a deep inspiration for next steps. Not only for the residents, but also for the team at Momentom as well."
Join Stephen and numerous other insanely talented artists at our Nicaragua Artist Residency following Envision Festival.