Words by Gabrielle Bonneville
"Impossible is just an option."
– Paulo Coelho.
Human beings are awesome. Let's not forget this.
We've all experienced the resonance of being around inspiring people. They hold us in the strong and timeless force of inspiration, the force that connects us to the creative energy of the universe. We've also all faced creative blocks and felt stuck in a lack of inspiration. We've discovered the secret that inspiration is a muscle – and the more you seek out inspiration, the more you embody it, and the more the creative force becomes YOU. 
If we know inspiration comes from within, how do we then exercise this muscle to cultivate more inspired & creative energy? How do we stay in states of inspiration even in times of great change and chaos?  
All beings hold an incredible ability to stay in a state of inspiration, maintaining the passion and power to keep moving projects and visions forward, even during hard times. These are normal people, doing incredible things instead of being weighed down – they transmute chaotic energy into the focused intention. They understand that in times of challenge – more than ever – the world needs their projects, and the time is ripe for community awakening. 
We want to highlight creatives who've dropped into the momentum of the massive energetic shift happening to create the world that they want to live in. People who cultivate inspiration within and radiate it outwards, as a driving force for their powerful projects that truly change the world.
We hope that in sharing the creative process of these inspiring projects – projects that have been brought to life post-residency and during times of C19 – that you find inspiration in them, and in turn, yourself.
Bruna Bortolato | Spiritual Coach & Women's Empowerment Mentor
Tell us about your passion. | My life project is going deep into the awakening of Womanhood. I hold sacred space for women around the world, helping them break free from old patterns & discover true freedom. In addition, I am involved in a non-profit project in Guatemala supporting indigenous women. Some services I offer include private coaching practices, online courses, and retreats. 
Why? | I have a vision of all our sisters rising into the fullness of who they are. I believe healing must be done collectively. With more and more women stepping up, I anticipate the world will witness the greatest transformation. I want to help as many women as I can to break free and awaken because I believe that life is a miracle and we were born to live in love.
Why now? | This is my greatest passion. It is my life's purpose. We come together on this earth to embrace one another. Our planet is calling for more love, compassion, understanding, community, kindness, sensuality, vulnerability, and collaboration. My deepest mission and wish is to help people value and accept who they are as vibrating beings of pure love.
How do you stay inspired? | I stay inspired by maintaining a solid daily practice of meditation, movement, and dance. I practically breathe music. I draw inspiration by spending time in nature and surrounding myself with people who I love and trust. Other sources of inspiration flow from being a lover of deep conversation and connecting with people is so energizing!
How do you generate your ideas? | I generate ideas by continuously being in the present moment. I observe things around me– seeing creativity as a spontaneous flow. Many ideas come from conversations. I read books that fascinate me–much of which involve empowerment, vulnerability, and self-care. Nourishing my body and my heart is so important for me to stay motivated. A go-to music playlist and creating a grounding atmosphere during my meditation has inspired ideas that have changed my life.
What are your upcoming offerings? | My Online program (Lunar Cycle & Purpose Course – Finding your True Self) will start at the beginning of 2021. Private coaching sessions are held online, where I see my clients weekly. My next Women's retreat 'Awakened Woman'  will be happening in November in Joshua Tree. Applications will be opening up soon!
Julien Desforges | Slackliner & Hair Hanging Artist
Tell us about your art. | My true passion in life is movement and healing arts. My main practices are slacklining, highlining, and hair hanging, but I also enjoy breathwork, yoga, meditation, and any accessible and free practice I come across which can help heal myself and others. Slacklining and Hair Hanging helps me transcend my fears and observe my mind closely. My mission is to inspire and guide people to break through their fears in order to fully express their creative self\ves, with less judgment and more authenticity.
How do you stay inspired? | I love to spend time in nature and feel connected with other beings, but ultimately, I feel most inspired when I am serving the world and shining light around me.
Why now? | Now is the only time!
How do you generate your ideas? | First, I center myself through my practices, relationships, and connection with the elements. Then, I focus all my attention on my most ultimate purposes (being happy and serving the world). In this fertile soil, I plant clear intentions and surrender to the unknown. Holding this space, I allow the higher creative forces to rise and flow. I observe whatever comes up and simply pick and choose the ideas that most resonate at the moment.
What are your upcoming offerings?  | 2-Week Highline Retreat with Yoga, Meditation and Breathwork in Canada (Sept. 25th-Oct. 8th) See Video 
Also offering slacklines for sale through my business Slackline Mtl 
Currently working on creating the Best Online Slackline Course of All Times
Where to find me :
Find all links on my Website
Watch my latest Hair Hanging & Highline Video 
All My Videos

Misty Moss | Self Love + Empowerment Specialist & Photographer
IG @misty.moss
What are you passionate about? | Sharing the knowledge I have accumulated over the years of being a full-time empowerment boudoir photographer.  Empowering people to capture their own empowering self-portraits that are focused on self-love, sensuality, and self-celebration.
Why now? | If not now, when? Being an educator is something I shied away from for years – I felt imposter syndrome around it, but I realized that I was only doing myself and others a disservice from not stepping into this role. By sharing my experience and how photography heals me, I can help others heal themselves. The world could use more self-love, sensuality, and healing, especially now during these heavy times.
How do you stay inspired? | Inspiration comes and goes, but I can usually find my way back to its embrace through self-love rituals, dance, meditation, journaling, and being open and vulnerable with my audience.
How do you generate your ideas? | I do a lot of journaling, and brain dumping. My ideas usually come to me while I do my morning pages, or while I'm lost in thought walking outside in nature, or in the shower. I read a lot as well, trying to stay inspired, and absorb as much art and creativity from amazing creators around me. I try to think about what I have that is unique, and how I can offer that in a way that helps heal those around me.
Where can we learn from you? | Tutorials on self-love and general boudoir photography can be found for free on my Youtube. More in-depth tutorials on self-portraiture and that healing journey are available on my Patreon.
Where to find me: INSTAGRAM: @misty.moss | YOUTUBE: youtube.com/mistymoss | PATREON: patreon.com/mistymoss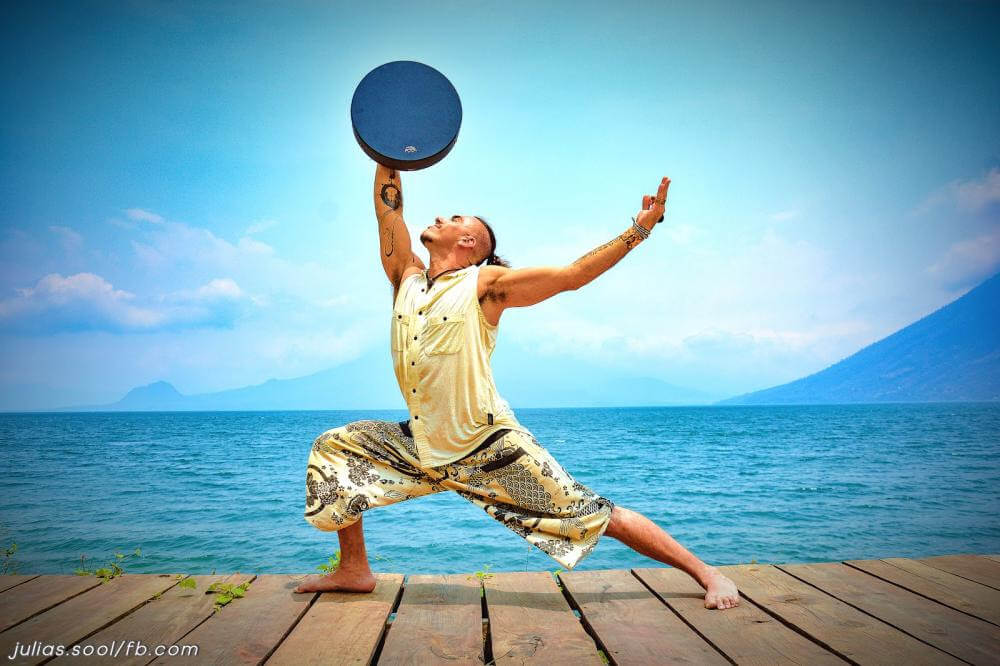 Diego Chiko-MandalAmor | Awakening Transformational Lifestyle Program
Tell us about the program you've been working on. | The Awakening Transformational Lifestyle Program is a high-quality personalized program designed to transform habits, patterns and loops within our lifestyle that are perhaps no longer nourishing our physical, emotional, mental, and spiritual growth to give space for new ones that will completely enhance and boost our human potential.

Why? | Because this is what I am MOST PASSIONATE about! To provide the tools that will help US, TOGETHER to GROW, and especially to achieve and develop a healthy, strong, and beautiful lifestyle based on the dearest things we love to do.

Why now? | If not NOW, then when…?

How do you stay inspired? | I do not always stay inspired. Challenges, doubts, insecurities, and periods where I do also feel that I'm losing the rhythm of my own flow of creation and personal development are real situations that come to surface from now and then. However, whenever that happens, I choose to fully embrace these waves of uncertainty as an opportunity to always find sources of growth, healing, and of course, inspiration. Challenge and shadow work are great tools for growth.
How do you generate your ideas? | By constantly surrounding myself with people, places, books, music, situations that keeps nourishing my heart, body, mind, and spirit.

When does it launch? | Applications will open around mid-September and will run for different periods of time depending on the personal goals of each individual. The minimum time of commitment is 21 days. 😉
Hart Floe Poet 
What do you create? | A unique combination of hypnotherapy and ecstatic dance event – titled Hypnodanza – with some live poetry, breathwork, sound healing, and meditation peppered in for good measure. Guiding participants the whole way from an initial hypnosis journey all the way through to a finishing meditation – this new blend of ecstatic dance was born from a desire to bring something a little deeper and more powerful to the dance experience. 
Why now? | More than ever I think as space holders and experienced facilitators in any sense – it's our duty to begin to maximize the value we can offer to any given experience. For me – introducing hypnotherapy into an ecstatic dance experience added many new layers of depth and potential to an already incredible experience. More than ever it feels like the time to begin to make friends with our subconscious mind, and begin to harness the true potential of this powerful part of ourselves we've largely been ignoring – for the creation of a brighter tomorrow. 
How do you stay inspired? | Really it's listening to lots of new music and getting visions for how particular vibrations might affect a crowd in a particular setting. The beginning hypnosis journeys are bespoke scripts written to induce differing experiences – from elevated feelings of love to increased feelings of wellbeing and abundance. 
The scripts themselves are just rough ideas that come to me. Once I have the idea – it's then an easy process of converting the concept into words that can be used to take people on a completely unique mind journey. Continuing to learn about hypnosis and human psychology continues to bring me more insight into how I can produce powerful experiences for participants that have profound effects on the rest of the dance journey and, ideally, the rest of their lives.
How do you generate your ideas? | I don't really 'generate' as such… it's more just listening and allowing.  When inspiration is there, I follow it and it leads me to the right places without effort or force. If I don't feel that wave of inspiration… I'll do something else until the wave strikes again! I think trying to force creativity is the source of much of the artist's suffering! I take the easy route and just allow it to flow when it does… which – when you get out of your own way – is pretty much all the time!
Adrian Callejas | Podcast Author of  Los Trips Del Tripador (Espanol)
IG @eltripador
What's your project? | A psychonaut podcast; I see life as a video game and that perspective helps me to not take this reality so seriously, & to manifest different versions of myself and keep expanding my perception. 
What makes your project special? | The podcast has a unique format that allows the listener to process the information through a musical journey.  The most unique thing about it is me, my perception of life, my trust in magic, and how I share this with all the different versions of myself out there in this video game.
Why do you think your project is important? | Simple. Because it is time to shift to a new world. 
When I changed my perception of reality and started focusing my energy on my life as a video game, my life shifted to a new level of awareness and the same is happening with the world now. So many people are awakening to a new world of possibilities and the information I share it's key to helping the process of that shift we are living in now!
Why now? | Everything we are living in right now brings us here and it is my time to do what I came here to do.
How do you stay inspired? | Nature, movement, and laughing keep me inspired.
How do you generate your ideas? | Psychedelics, life experiences, and deep talks with friends.
How can we find your podcast? | On Spotify or wherever you listen to podcasts. Every Monday and Wednesday.
Listen to Adrian's podcast here: https://open.spotify.com/show/0Kpb7b7fPaDzEAcdPddmUy
You may have the opportunity to meet one of these amazing humans at a Momentom Residency.