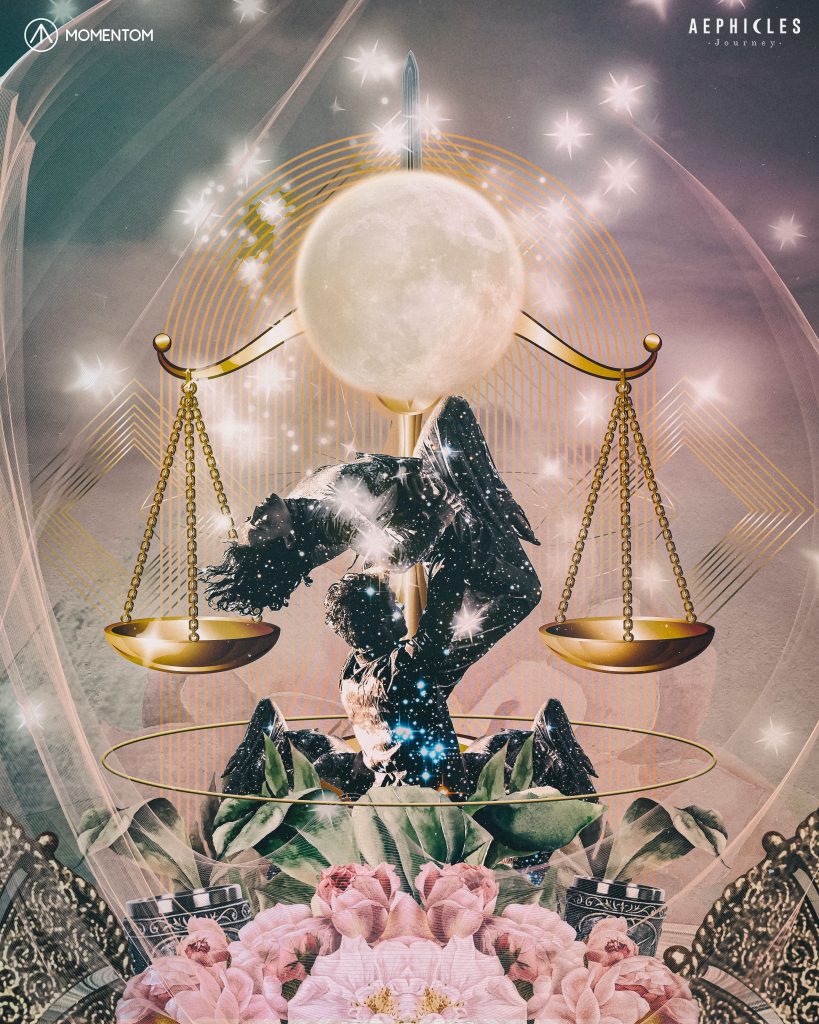 Full Worm Moon in Libra
A Tarot Spread from the Stars
by Landon Guinn
On March 28, 2021 the Full Moon reflects its light in Libra — a symbol of heralding balance, beginnings, and boundaries.
As the first full moon of this astrological new year it is the perfect way to catapult us into a new era! 
We are continuing to alchemize and neutralize energies of the past and with this Full Moon in Libra we may seek to harmonize through the chaos, leading to a discovery of our truths.
Let's dive into this energy as a tarot spread…
In the traditional tarot deck, Libra is represented in the major arcana by the Justice card and in the minor arcana by the Two, Three, Four, and Queen of Swords and the King of Cups. Of course The Moon card is present as well.
The
Justice
card we can say is the overall experience of this moon, expressing:
We each may hold two opportunities and it is a good time to decide.

By relying on our feminine energy we will act with more integrity as our masculine energy may be reactive from ego interference.
The abundance of
Swords
in this sign tells us:
We can easily create beginnings.

Balance in the mind space will allow for deeper connections.
In this depiction there may also be feelings of uncertainty as swords and libra both represent the Air element. This is a reminder for us each to maintain our grounded stance in what is really going on at this time in our individual life and as a global society within this earth plane.
The
King of Cups
being the only cups to represent Libra can be viewed as the emotional experience of this full moon and speaks to:
Emotional Maturity

Resilience to feel and flow in form.
In cups we understand the presence of emotions and the call for boundaries and expression. With Libra pairing with the King of Cups we are shown that harmony is achieved with ease as we allow the distractions to fall and find our focus in presence.
The presence of
The Moon
card shows us the culmination of foundational energy for which all of these experiences are shown in this dimension.
We may see:
Old programmings surfacing for transmutation

The human form activated as it is created from water
In understanding each of these cards individually we can see this is prime time to complete any straggler energies and focus on the realignment of our own intellectual-emotional relationship.
A few questions that you may consider asking yourself are:
How are you being influenced by your environment?

What are your choices?

Where is your inner current flowing?
As this moon makes its way into and out of Libra the main energy gathering seems to represent this idea of balance and honesty showing through as we stand more powerfully and vocally in our individual truths. By seeing both the Justice and Moon cards we acknowledge the Intuition as the judge and Timelines as our choices. For our human's ego we can often find choice to be between physical and physical when in this relationship of Justice and Moon we see choice as energy and energy. With the presence of Swords calling for balanced intellect there is a revelation that through our emotional empowerment at this time we remember a greater wholeness already present in ourselves. This is what the King of Cups provides.
It is the beginning of a new astrological year! 
This is celebration time!
It is such a powerful synchronicity for the first full moon of this new year to be one calling in harmony and emotional integrity.
Strap in.
We are flowing faster and faster as a collective towards a present moment that is anchored in wholeness of harmony and this full moon in Libra is the perfect space to begin.
Landon Guinn
Momentom Collective
Ometepe, Nicaragua
Check out Landon on Instagram and YouTube
@energenetic.alkemy