"Art is an echo of the creative force that birthed the galaxies." – Alex Grey
Art Expands Human Consciousness
Do you believe you are an artist?
Do you think you are creative?
If you answered 'no', we invite you to read further and maybe your answer will change.
If you answered 'yes', these words may resonate deeply and inspire an expansion of personal consciousness…
Art expands Human Consciousness, and art involves expressing our unique creativity.
Alex Grey defines creativity as "the way the Cosmos evolves and communicates with itself".
In this sense – we are all creative beings.
Alex Grey is a Visionary Artist, best known for his paintings that represent humans in their cosmic, biological, and technological evolution. From beginning his career in medical illustrations at Harvard Medical School to creating a Chapel of Sacred Mirrors (CoSM)- and all of his revolutionary art in between – he is the epitome of how art expands the consciousness of humanity.
CoSM is a visionary art sanctuary for a community that "honors and practices art as a spiritual path" with a "mission to inspire and evolve the creative spirit".
Grey says, and we agree:
"The great uplifting of humanity is the redemptive mission of Art."
Alex Grey shares these perspectives and some of his evolutionary art in this inspiring Ted Talk.
Here at Momentom Collective, we believe everyone is an artist and has the power to create a life they design through the intentional focus of introspection and integration of self-expression – which is how we feel our creativity flourishes.
Understanding Creativity
Creativity is defined in the dictionary as the ability to use or produce original and unusual ideas.
"Creativity is as individual as it is universal." – Jonathan Tilley
Jonathan Tilley spoke at a Ted Talk about "What Creativity is trying to teach you" and he's quite the credible creative with many titles: singer, dancer, actor, playwright, direct choreographer, author, voice-over artist.
In his Ted Talk, he speaks of how people describe creativity as a feeling, force, love, God, Source, energy.
Creativity begins with a thought, then we play with these thoughts, reflect on our experiences, and share our creations.
Creativity is also with "requirements", such as a sacred space, to make mistakes, embrace failures, whilst truly listening to what Creativity is trying to tell us.
As we share our creativity, we allow others' permission to express their creativity – creativity is a cyclical process.
This cyclical process of expressing creativity and sharing art is one of the many reasons why we love doing Artist Residencies;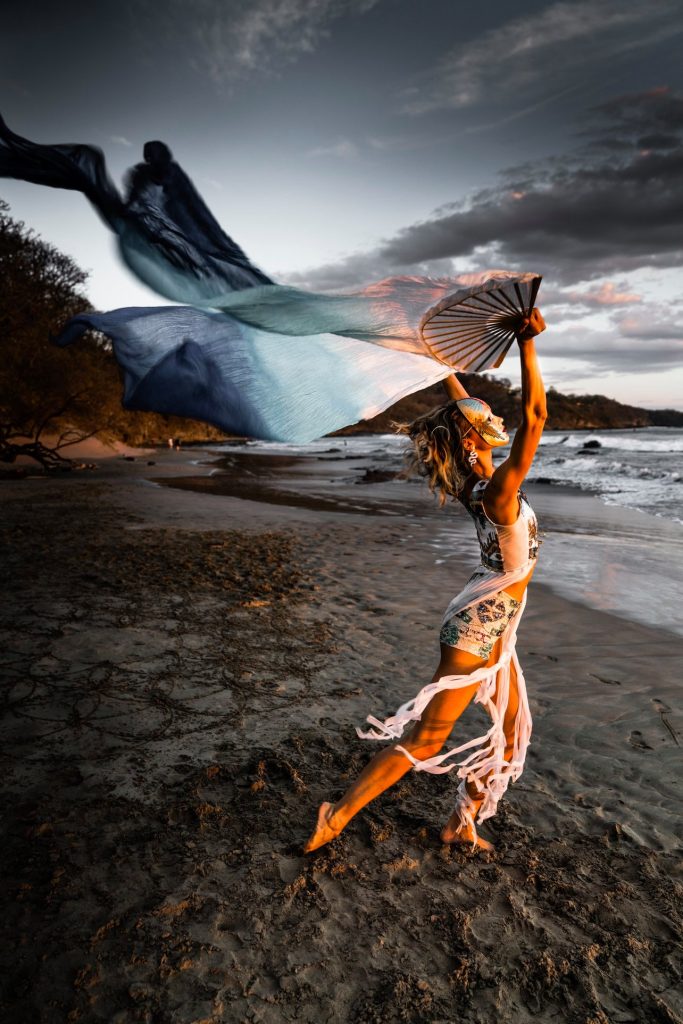 Art is an Expression of Your Creativity
Through creating sacred spaces to create, whilst living amongst other passionate artists, we continue to experience first-hand how creativity and art catalyze human consciousness.
However, you don't need to do an Artist Residency to reap the benefits of creativity and art! If you've ever cooked a meal, decorated your home, or put an outfit together — you are already expressing your creativity!
Creativity and Art happen in all of the moments – even the ones that seem mundane, even in the moments of stillness.
As Alex Grey says, "Once we understand things in a new way, we can create a new world". 
As the world is shifting to new versions of "normal", we continue to thrive with intentionally designing our "new world." We do this by creating safe sacred spaces for artists to express their creativity. If you feel called to be a part of our digital movement, we are preparing to post heaps of exclusive content for our generous supporters on Patreon.
Artwork by Louis Dyer, a Visionary Artist